Posted
on February 5th, 2022
by Yvette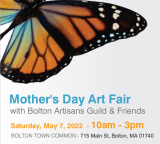 MOTHER'S DAY with BOLTON ARTISANS GUILD & FRIENDS
Bolton Town Common from 10am - 3pm on Saturday, May 7, 2022.
Celebrate Mother's Day weekend with us! The Bolton Artisans Guild has invited artists from Bolton and our surrounding communities to show and sell hand-made, original art at the Bolton Town Common. Come enjoy the day with us and see what beautiful surprises your local art community can create!
We are now recruiting artists for this event!
Details for participating artists:
$30 booth fee (to be used on advertising).

Artists would be required to be fully set up by 10am in their assigned location

Artists have to provide their own set-up/display (10x10 tents are encouraged, but not required)

At this point, we are not sure if any food will be available for purchase, so plan on bringing your own food and water.

Port-a-potties will be available for artists and public use

After unloading your set-up, we request that you park off the premises before setting up. The Bolton Common parking lot is small and will be reserved for our customers. Locations of parking lots close by will be sent to you before the event for easy parking.

We ask that you help us advertise! Social media graphics will be provided for you to share. If you have an email list, please let your fans know (and if you don't have an email list, this is a great event to start one!).
Please contact me via email for additional questions or to sign up! Thank you!